The Gammelharpa class
First we could enjoy Ola Hertzberg playing his moraharpa-shaped kontrabasharpa.
Sven Nordin is also called "Mr. Österbyharpa". And Österbyharpa he played. We were happy to see him there - of some reason he had not participated before.
Anders Nordfors came next. He is perhaps best known for his formidable kontrabasharpa plying, but he also plays silverbasharpa, which we could see today.
Christer Wesström is a man who grew up with some of the legendary old timers. He plays on a silverbasharpa built by Spel Oskar Larsson.
Björn Björn, who became champion in 98 was followed by Ingvar Jörpeland, Curt Jinder, Daniel Pettersson and Jan Sahlberg
Modern class
Anna-Kristina Widell, Christer Häggmark, Per Gustav Jernberg, Sture Hogmark, Ditte Andersson , Esbjörn Hogmark, Ellinor Pettersson, Peter Puma Hedlund, Ola Hertzberg, Tommy Lindholm, Henrik Eriksson , Elin Skoglund and Anna Wingård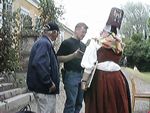 Nisse Nordström, Peter Puma Hedlund and Birgitta Dahl.
Chairman of the Swedish paralament.
Daniel Pettersson from Boliden won the gammelharpa class and
Peter Puma Hedlund became a second time winner in the modern class.