The 2002 Nyckelharpa World Championship
Photos Esbjörn Hogmark and Gunnar Fredelius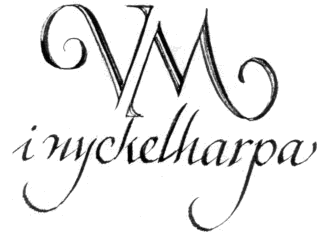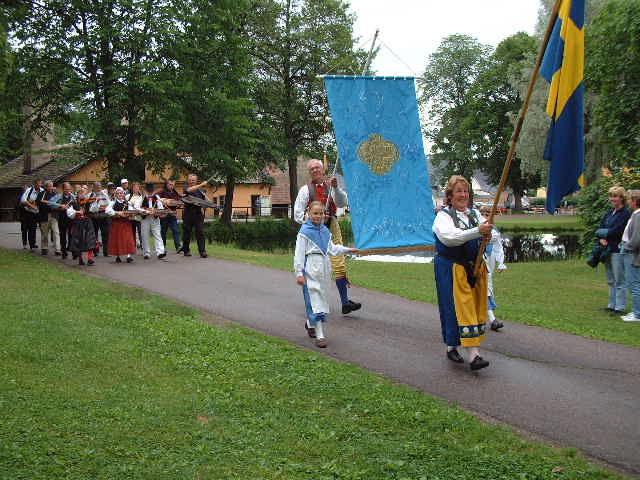 Marching to the opening of the second day of The Österbybruk nyckelharpsstämma,
where the winner will be announced .
But let us start the day before. The day of the competition.
Photo EH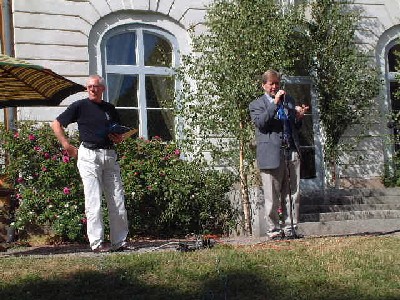 Per-Gunnar Ahlbäck is greeting everybody welcome.
To the left the stämmas general Anders Söderberg. GF
Österbystämman and the competitions where held at the same time
as The World Championship atSoccer. So we were lucky
that the audience was not that much diminished.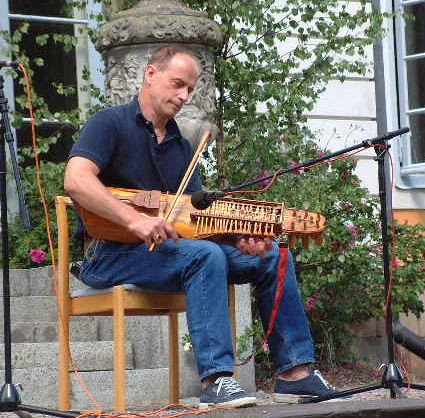 Christer Wesström started out with a breathtaking tune. The competition
is held in two classes. Here we have the class for the old traditional types of the instrument.
The nyckelharpa is made by the legendary "Spel-Oskar" Larsson, and it was given to him as
a Christmas present when he was a boy.
Next was Jan Sahlberg
Photo GF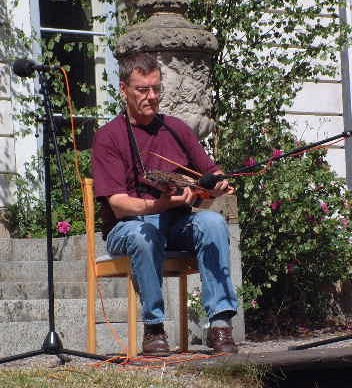 Bengt Andersson, who later on was given the great news that
his nyckelharpa was announced "best in show" at the exhibition
for nyckelharpa builders.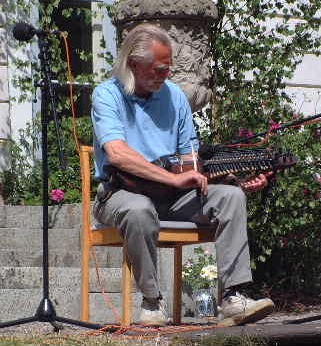 Curt Jinder plays and talks about the tunes...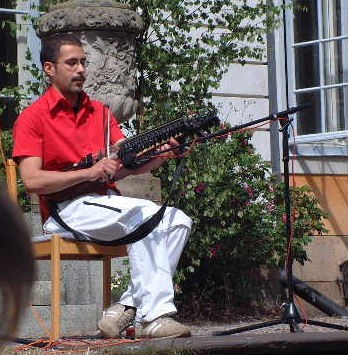 Kristofer Pettersson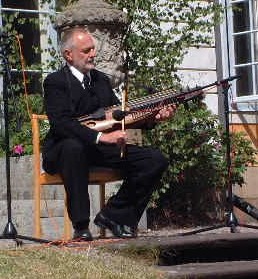 Ingvar Jörpeland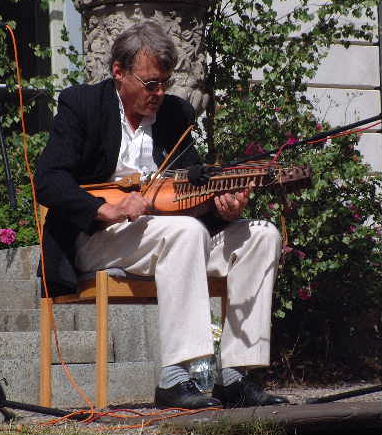 Björn Björn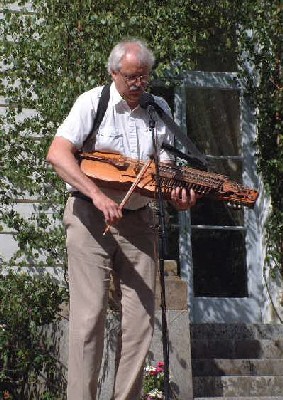 Per Gustaf Jernberg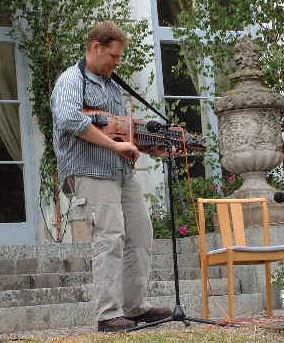 Magnus Holmström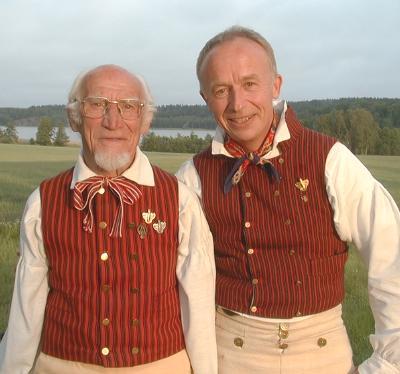 Esbjörn Hogmark and Thore. The photo is from another occasion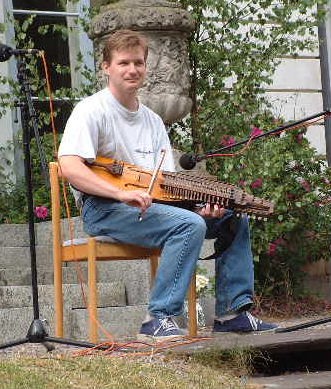 Henrik Eriksson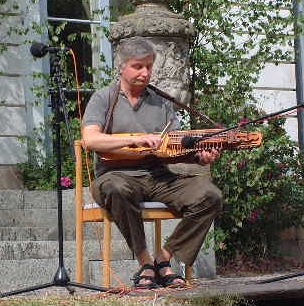 Tommy Lindholm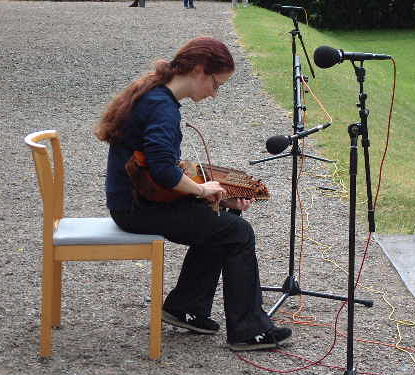 Anna Kristina Widell.
On to the Sunday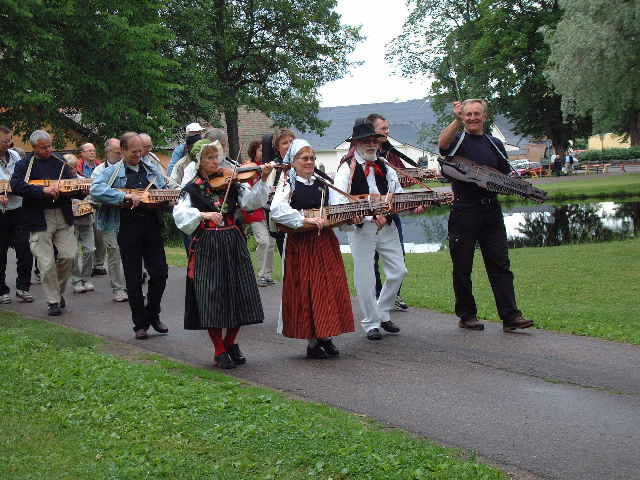 Sven Olof Sundell leading one of the sections during the march.
.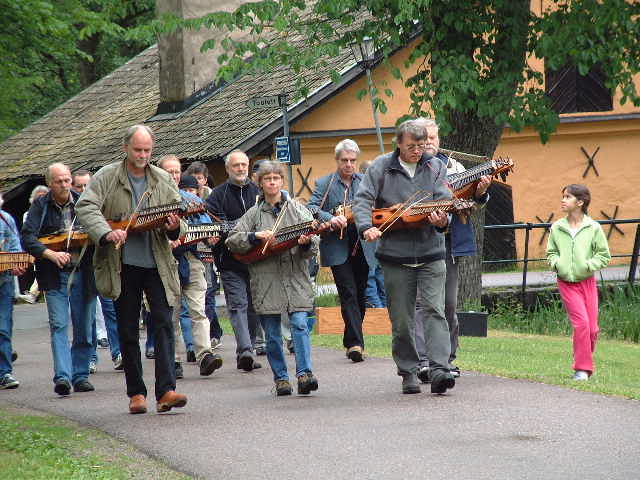 ..
Old types of nyckelharpas on the march GF
Anders Söderberg, the man who holds the stämma together. To achieve the
stämma you need 300 volunteers The planning and preparing of the stämma
starts 10 months ahead...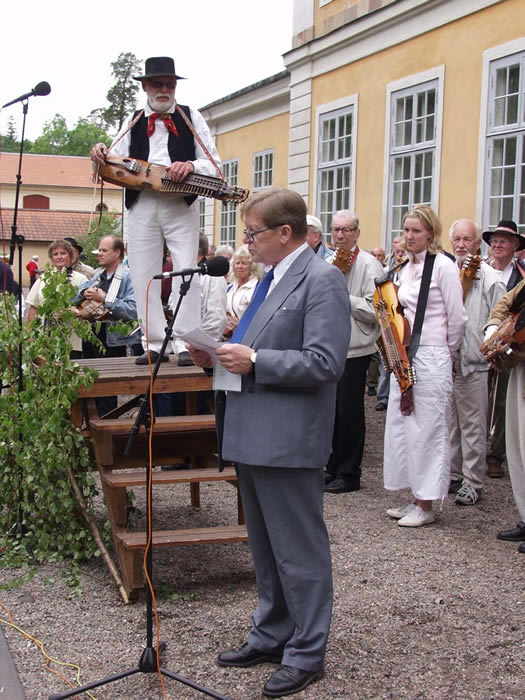 Gunnar Ahlbäck at the Sunday's opening speech.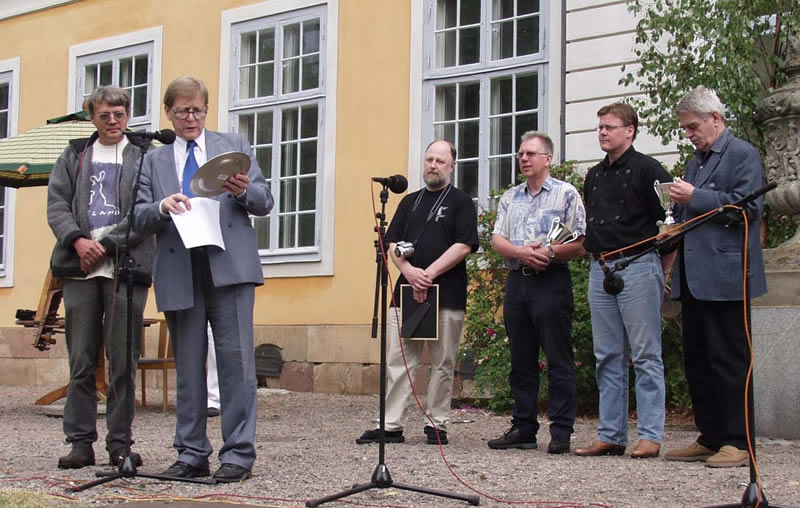 Björn Björn, second time winner in the class for traditional or "old types" nyckelharpas. The chairman of the jury, Gunnar Ahlbäck
is reading at the plate before he hands it over. Behind them stands Gunnar Fredelius, Sigurd Sahlström, Peter Puma Hedlund and
Styrbjörn Bergelt from the jury. Missing from the picture is Nisse Nordström EH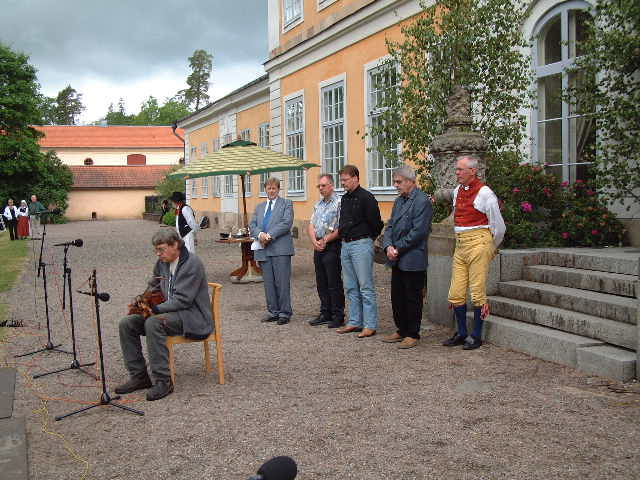 Björn Björn playing "the winners tune". To the right is Anders Söderström. GF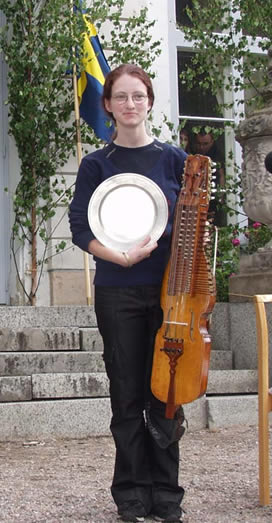 Anna-Kristina Widell - the new champion in the class "modern nyckelharpa" EH

Time to play the winning tune. EH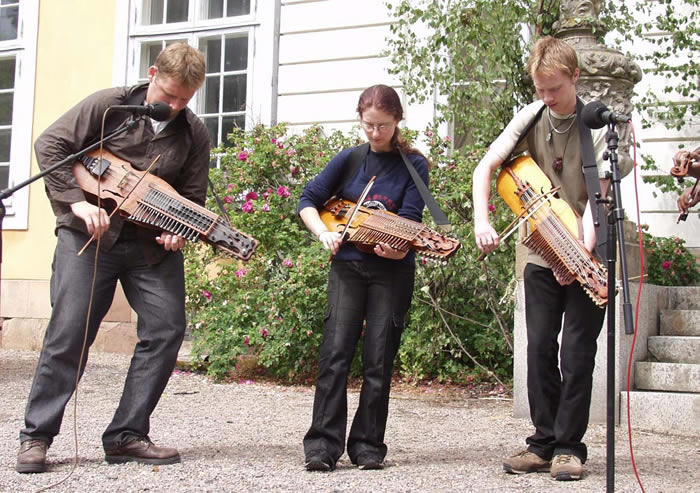 Magnus H, Anna-Kristina W and David E. EH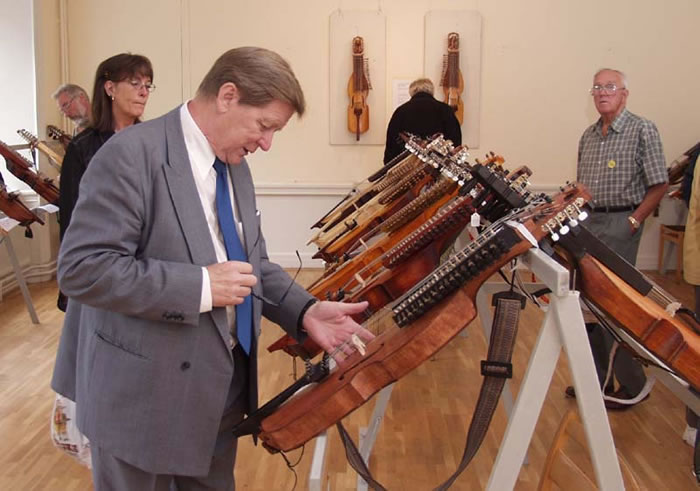 Gunnar Ahlbäck at the exhibition. He was amongst the men who started the Österbybruk nyckelharpstämma. EH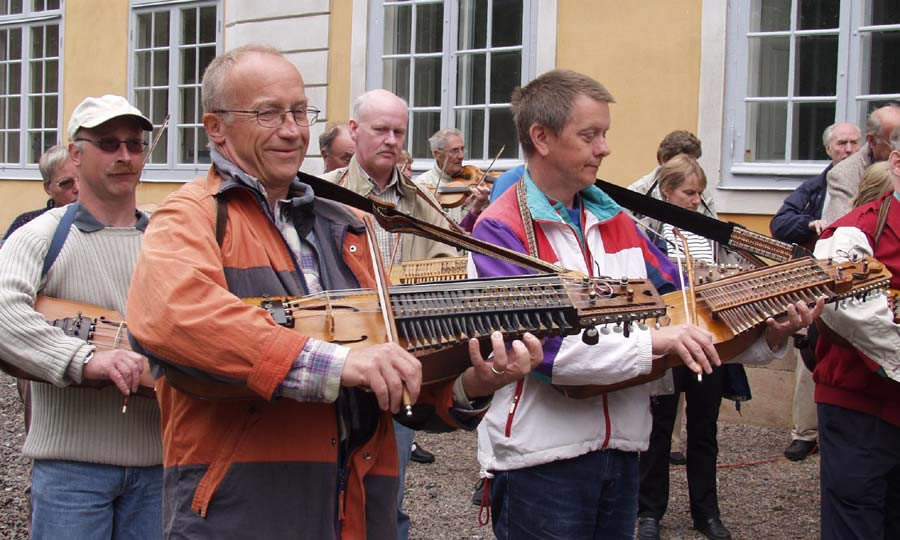 Sture Hogmark and Arne Bergman mfl. EH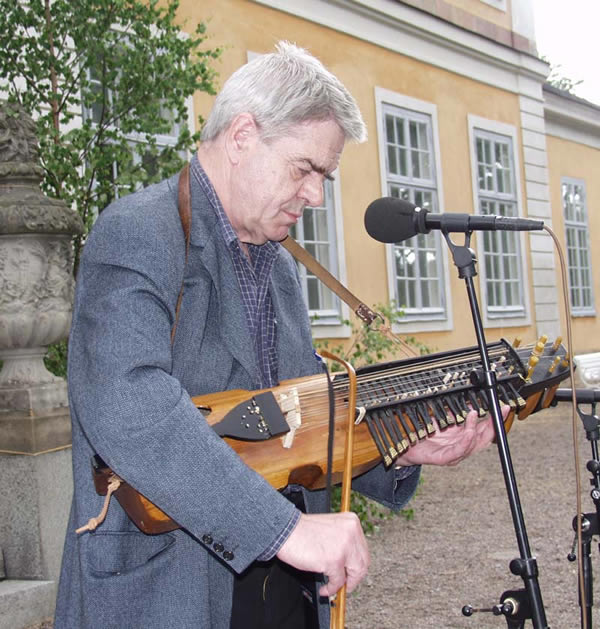 Styrbjörn Bergelt. EH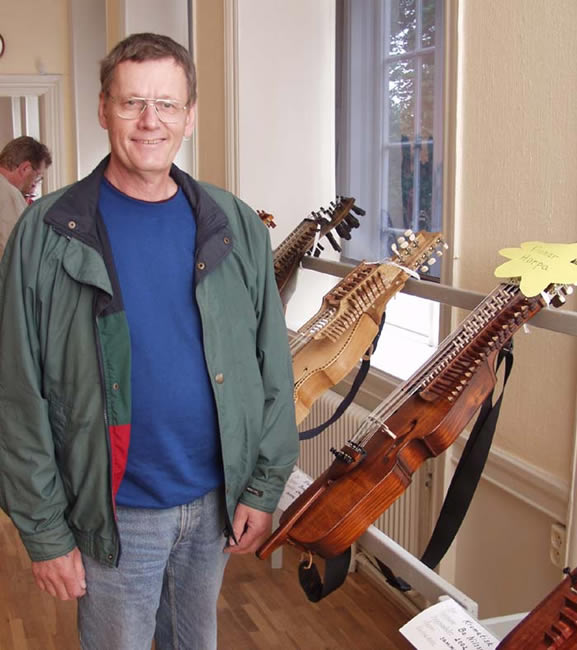 Bengt Andersson with his "best in show"-nyckelharpa.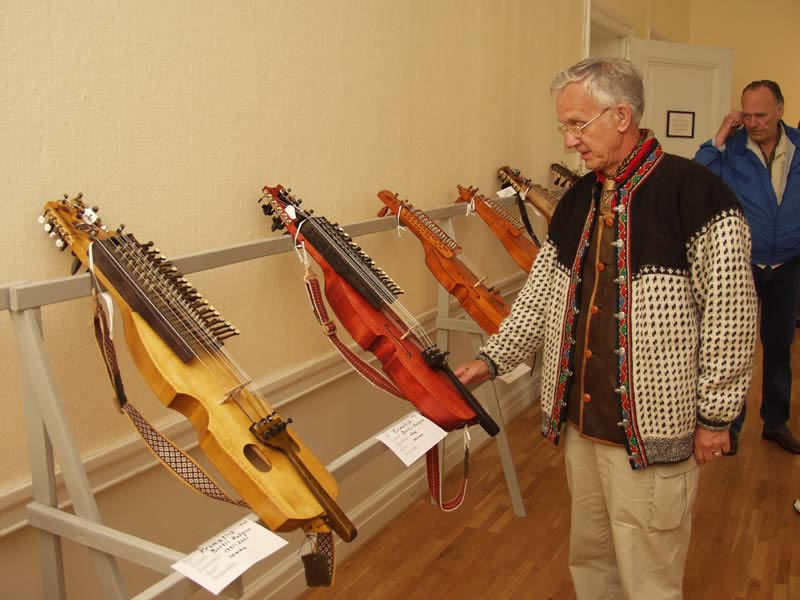 Bertil Hallgren studies the exhibition.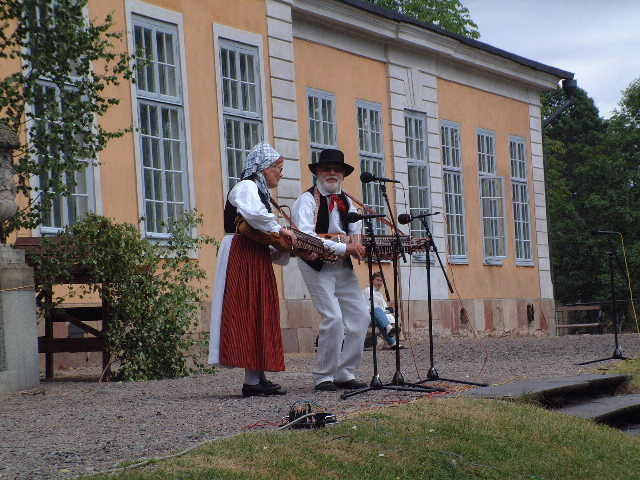 Lena Höög and Hasse Gille - World Champion in Stockholm 1992. Here at the stage at Österbybruk.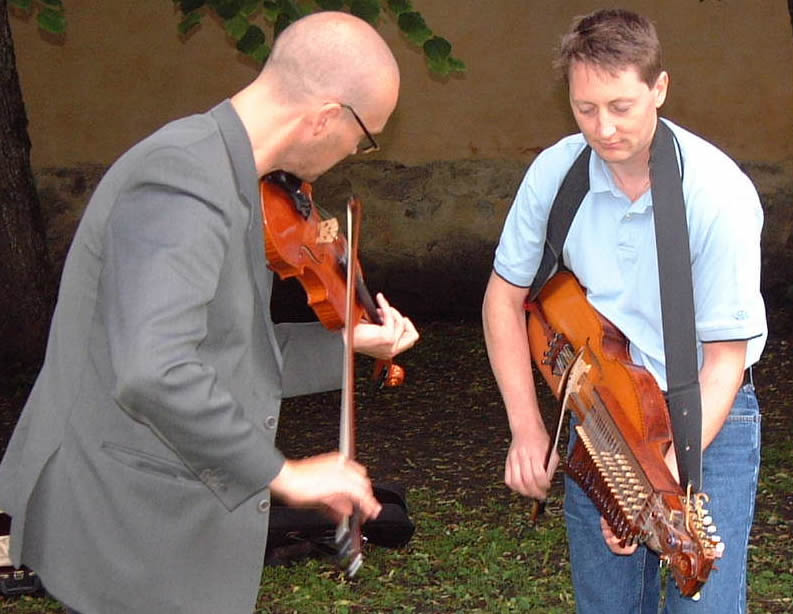 Another Word Champion Anders Mattsson playing "in the bushes". It is called "buskspel" when we meet someone at a "stämma"
and play spontaneously.