The Peter Puma Hedlund tour in USA aug-sept 2003
Photo Rita Leydon
NEW - the14th of September - a new page from the
last week of the tour - click here
Rita gave me the text in Swedish! Please forgive me if my translation to English is poor! GF
To get it chronological - start from the bottom and go up :-)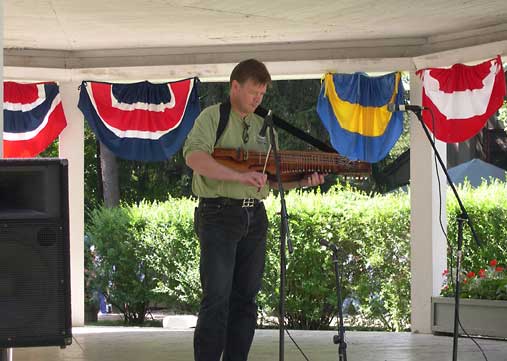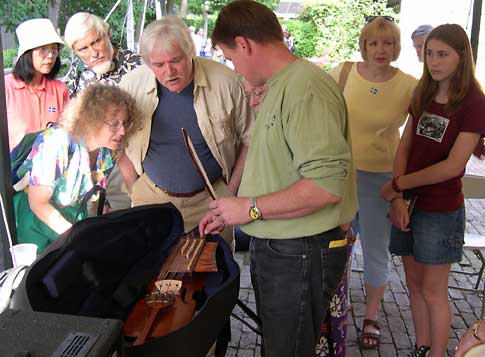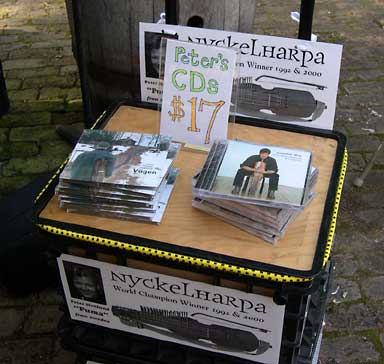 Above:
30 august. ScanFest in northen New Jersey.
A huge festival.
Peter Puma and his nyckelharpa was a succses.
The CD:s are just flying away.
Rita were playing "buskspel"
Peter Puma Hedlund plays in Lahaska.
50 listeners squeezed in, into the guitar shop
enjoying the sound of the nyckelharpa.
Two of them believe they have found the instrument of
their dreams and want to find out how to get one and what the
price may be.
Most of the listeners buy the new CD.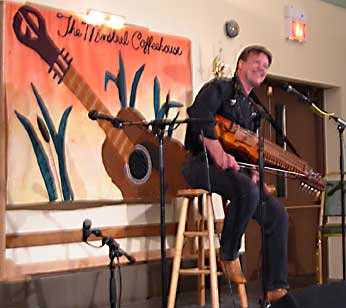 Minstrel Coffeehouse in New Jersey 29 August ... more than one hundred CD:s - "Another Way"
were sold this night as it
was released!
It took the Puma 30 minutes after the show, to cross the room as the crowd
wanted to have records signed or just say a word..
To night, 30 august, there is a consert in Lahaska and after
that they move on to the Scandinavian Festival in New Jersey.
Monday its time for Vermont - several conserts and then over the next week end
the festival in Jamestown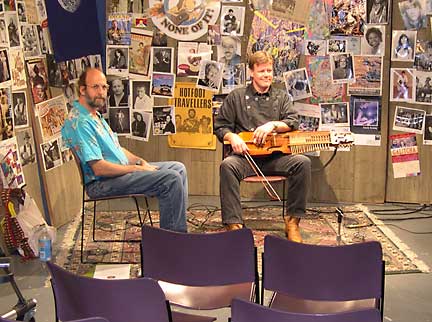 Peter Puma Hedlund och Ralph Litwin at
"Horses sing none of it" on TV 28 august 2003


The new CD - another way.

Swedish musician introducing the exotic nyckelharpa
August 29, 2003, By Will Lindner Music Correspondent click here

NEW - the 14:th of September - a new page from the
last week of the tour - click here