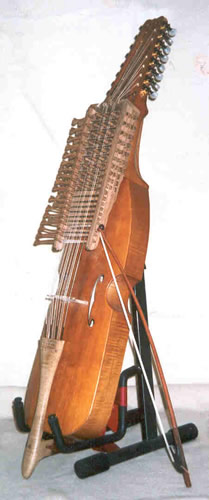 This nyckeharpa belongs to Erik Sicardi,
the president of the french nyckelharpa association "Nyckel Art Passion" .
Their goal is to make nyckelharpa more popular in France and in the other countries around France. One of the objectives is to write a book in french about the nyckelharpa.
Erik has told me:
We are about 50 or 60 nyckelharpa players in France and there is one famous nyckelharpa builder : Jean-Claude Condi . He also make very good bows. He has also built Moraharpas.

There is also a young nyckelharpa player, Eléonore Billy, who will be the first french musician to be participate in the Eric Sahlström Institute year-long course in Sweden.

Once a year we organize a nyckelharpa workshop with swedish musicians . Last and next summer, it will be with Kristofer Pettersson. There is also a dance workshop with Magnus Samuelsson and a fiddle workshop .
We don't make just swedish music. The most important thing for us is to play nyckelharpa.You can play everything you want especially old music ( Baroque music is really good on nyckelharpa ).
There is another french association, the CMTN who organize workshops of swedish singing, fiddling , dance and nyckelharpa. There was a workshop for Christmas with the nyckelharpa player Daniel Pettersson. He also recorded a CD for Radio France at this time.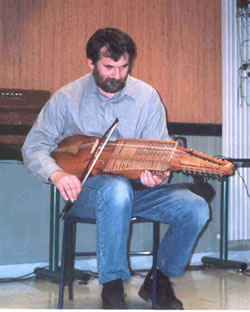 Jean-Claude Condi .
Webmaster Gunnar Fredelius at Nyckelharpans Forum