The nyckelharpa originates from the area around the Baltic Sea. It has been in existence ever since the Middle Ages. Most of the evidence for the instrument in early times comes from Sweden. The last four hundred years up to the end of the 20:th century it seems to have been played almost exclusively in Uppland, the province north of Stockholm. Now the American Nyckelharpa Association has about 150 members, and there are nyckelharpa players in Switzerland, France, England and a few other countries.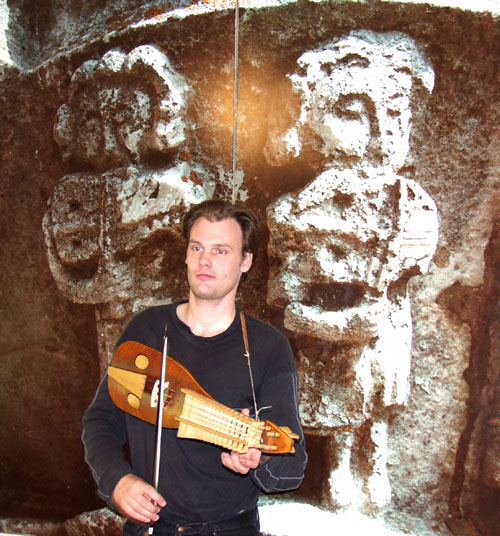 Johan Hedin in front of a picture of the nyckelharpa sculpture carved on a church on Gotland, dated to 1350.
Photo EH
The nyckelharpa is a compound bowed chordophone with a special sort of key mechanism. One of the reasons it has not only survived over the centuries, but most of the time has been the most popular folk instrument in Uppland - and now is played by the thousands - is probably its ability to develop according to the current taste in music. Another reason, I personally think, is that it is an instrument so easy to get started with and so much fun to play!
It isn't that the old types of nyckelharpa disappeared when the modern type came into being. On the contrary young nyckelharpa players often play the old type alongside the modern nyckelharpa. Or "harpa" as it is referred to by players in Sweden in the daily usage.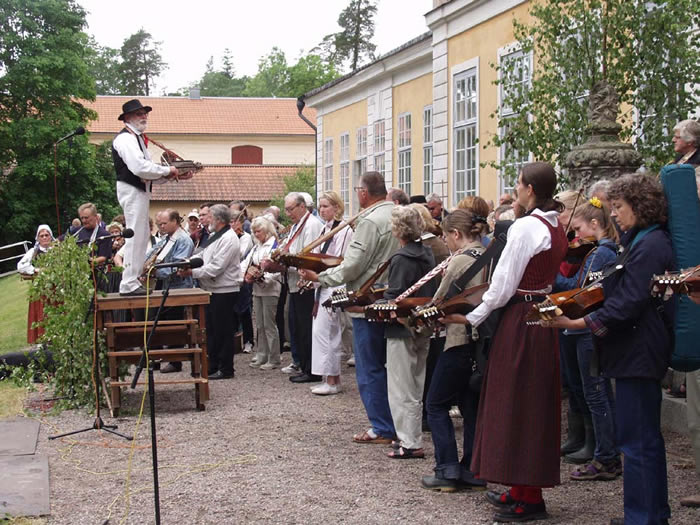 From the "allspel" at Österbybruk 2002. Hasse Gille in a high position :-) Photo EH